Fake Slide Guitar
By Ben Blakesley
Everyone loves the sound of a well played slide guitar, but not everyone has the time or patience necessary to master this artform.

For those of you who fall into that category, here is a quick and easy 'cheat' that can get you playing slide guitar right now!
This is a fun little workaround for getting a slide guitar sound when you don't know anything about playing slide guitar. I don't promise anything revolutionary here; you won't sound like Elmore James, but it is just enough to get you that distinctive metal (or glass) on metal sound that cannot be replicated.
I consider myself a proficient guitarist, not great, but I can certainly hold my own in a few different styles.

But I have never spent much time studying slide guitar method; kind of interesting seeing as I am a huge lover of the blues and the slide guitar masters.

But I digress...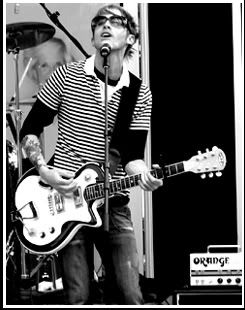 I learned this little trick from a guitarist named Josh Sinclair of the Iowa-based band Little Mojo while he was living at my house in the late '90s. An easy way to play slide guitar with little or no slide guitar knowledge is to simply tune your steel-string guitar to an open E major tuning. That is tune your strings (from low to high) E - B - E - G# - B - E. So really take your standard tuning and tune the A string up a whole step, the D string up a whole step, and the G string up a half step.

Now when you play all the open strings it sounds like you are fingering an E major chord in first position.
Now grab your favorite slide tool (metal will give you a 'sharp, tinny' sound, glass a slightly more 'muted, warmer' tone, a beer bottle works quite nicely too and looks really cool) and put it across all the strings. Don't press down, when playing slide guitar you no longer need the frets (but they are a good visual guide). Wherever you put the slide you will be playing a major chord. So if you're at the third fret, you would be playing a G major, at the fifth it's an A major, and so on.

You can strum like this or pick out individual notes like a solo or riff. Just do whatever sounds good to you. That's it! You're off and running.
I personally prefer to lay the guitar on my lap and play horizontally (think Ben Harper see image) but do whatever feels comfortable for you. The only caveat is that you can't really play minor, diminished, or augmented chords using this method. If you're strumming the chords in this manner and you get to a place with a minor chord, I would suggest that you mute or don't play the third of the chord (what would be the G string). That will take care of that problem.


This method will work with other open tunings as well. You could tune to an open A, open G, whatever you're comfortable with. Another note about technique: it's a good idea to mute the area just to the left of the slide on the fretboard (for right-handed players). This will give you a better tone as there won't be any string vibration behind the slide to cause sometimes unwelcome overtones.So have at it and enjoy!
Ben Blakesley
is the Chief Engineer for Philadelphia based recording studio Javboy Records, which specializes in creating custom music solutions for production.